November 16th, 2005: Chat Criticisms (how to make it better next time, dude)

Steam release

I've only read the first entry in this thread, and I've got to say this is the reason the internet and it's fucking message boards and all of this shit can be a waste of time.
Let me specifically answer your point about sound checks and why they interfere, know-it-all. A LOT of artists don't show up for sound checks at all because it means you sit at the venue all day long. You get there around 3-4 and you stay until you play. As I am trying to do two things at once - write and record a record as well as play a tour - missing sound check means I have an extra four hours a day to work on music. Is that a sufficient answer for you or do you still sense "bullshit"?
Now I could NOT tour and just work on a record - and you could bitch about that, or I could tour and tour and tour giving you lots of little things to bitch about (like not getting in to see the sound check when YOU show up late) - and then you could REALLY bitch about there not being a new record.
Next, I've seen a lot of you get all worked up taking sides and whatnot over the Jerome situation. Guess what? It's none of your fucking business. You don't know Jerome, you don't know me and you sure as fuck don't know what's been going on.
And while I'm at it... it really doesn't matter what gets done for you people - there's always someone bitching and bitching about one thing or another.
Flame away, internet whiners.



November 16th, 2005: Chat Criticisms (how to make it better next time, dude)

>I missed the chat. Was it really a waste of time?
Yes, it was a complete waste of time.
November 16th, 2005: Chat Criticisms (how to make it better next time, dude)
>See....THIS is why you should just unannouncedly pop into chat at random times like I keep sayin.

pfft! scheduled moderated chat...what were you thinking????
I can't. Remember? You guys figured out the 1st day how to log in as me on the regular chat - thank you MusicToday.
March 14th, 2006: Trent Working With Saul Williams...

After touring for quite some time (with more to come) I've decided to completely immerse myself in writing. This seems to keep me sane during the months of repeating the same day over and over. Don't get me wrong - the shows are the focus of the day and I truly enjoy them, but the several hours AROUND the shows can equal lots of wasted, mind-numbing time. However, balance has never been my strong suit and this I believe contributed to my recent illness brought on by overdoing it...
I've brought my collaborator Atticus Ross out for a few weeks and we've split our time between working on new NIN tracks and helping Saul Williams on his upcoming record. Saul is one of the most talented and prolific people I've ever been in the same room with. We are both out to defy anyone's expectations and the limitations of genres and categorization with the tracks we're working on for his record and it's provided a great counterpoint to what I'm working on for nine inch nails. We have surprised ourselves at how productive the time we've spent has been...
On the NIN front, I believe I've stumbled into the missing musical "thing" I've been looking for through experimentation... it's a very exciting and inspiring time for me right now. The time between this tour and the next will be devoted to formalizing a new batch of NIN material that will be completed after the summer tour.
(doesn't sound like "with teeth")





March 19th, 2006: 2006_03_18 - Miami [Bicentennial Park]



A note on festivals...
I know it sucks, but we were only slotted to play 75 minutes - then, some of the wonderful opening acts managed to go overtime and we were asked to cut a song or two so Tommy Lee wouldn't get totally fucked and have 10 minutes to play after we stopped (there was a strict curfew at midnight).Zombie didn't cut any but we did out of respect to Tommy (who is a friend) and the festival organizers (who should have "organized" better).
I know nobody's complaining about this (yet) but thought I'd address.



March 26th, 2006: We are filming some shows



We are filming some shows



Our plan is to film the shows in Oklahoma City (3/28) and El Paso (3/30) for a possible DVD release. We're filming in high definition so look your best!



April 1st, 2006: "The Hole" Webcam Discussion [Old Posts]

>Ohhh, thank you Rob sweetie!!!! I saw "please' and 'home' not sure if i missed anything else. I was digging on that soundcheck, so very cool! I would like more, please!!!!!!!!!!! maybe tonight! :)

Hey man, what about thanking ME? It was my idea...



April 13th, 2006: EDIETS video



EDIETS video



Regarding EDIETS, there will be no video released. I made a mistake.


The good news is that mistake has acted as a catalyst for me to rethink a number of decisions regarding the direction and position of the band I've made and will be making in the future.
The enemies from outside and within have been identified and I am back on track.





April 18th, 2006: Trent, what's your clean date?



6.11.01





June 9th, 2006: Discusiion of band chat 2nd June 2006





bitch, bitch, bitch, bitch, BITCH!

I was just browsing through these and noticed "brokenwhatever" bitching about chats not being serious, etc. Here's the deal.
I am very aware of the power of mystique and keeping the "tone" appropriate when it comes to nine inch nails. I don't EVER want my personality or my private life activities to overshadow what is by far the MOST important thing to me - the music and the experience. Allowing you to attend the occasional soundcheck goes against that, but I think it's a cool thing to do once in a while and I get the feeling that you do, too. When chats began to devolve into what they've become, I was concerned... but that mood is what happens when you put all five of us together in a cramped room doing battle with MT's shitty interface and lots of ridiculous questions. Aaron is a funny fucker - add Josh and that just happens. To STOP it would be acting and fake and would simply mean no more chats. This is for the fan club. These are for people wanting more. If you don't want to see a less serious side - simple solution: don't participate.



August 4th, 2006: Regarding decorum

Regarding decorum

Just a reminder...
The forums in the Spiral are going to adhere to certain levels of decency. Anyone caught maliciously invading someone's privacy, posting racist comments, directing anyone to another site where this takes place, etc will be banned permanently. This should be a place where people can exchange ideas, thoughts, comments, critiques, pictures, all-out bitching and whatever else strikes them - BUT - there are limits and when that line is crossed you will be leaving the building.
I'm sorry this even needs to be said, but apparently there's a couple lunatics out there.
On another note, there's some very cool things ahead for this fan club. Just left a meeting discussing some major changes that I'm sure you will all approve of.
Trent



September 27th, 2006: The caht shit the bed!

The chat shit the bed!

Whoops. All ready for some intriguing, soul searching questions but the software wasn't. Sorry guys.


This has been rescheduled for the near future.
I have been:
in seclusion
writing and recording the new NIN record
producing Saul Williams
and waiting to do this chat.

NUCCA.



September 27th, 2006: The caht shit the bed!

The chat shit the bed!

Hanging around working on stuff way out in the woods.
9.22.06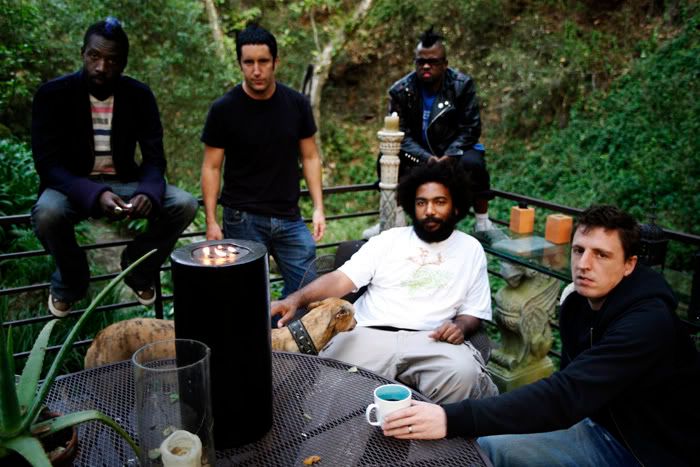 September 27th, 2006: Responses From Trent



Questions For Trent, from Prag



Trent:

Was it difficult going back to a regular life after the tour ended? How long does it take you to readjust?

Getting off the road always is a weird time. It takes a while for me to adjust to being stationary and this time was no different. The next phase I move into is usually isolation - which has also been the case. You (at least I do) get tired of being around people all the time.
This time I had to immediately jump into finishing the DVD, then right into working on the new NIN record. I didn't feel like a break because I wasn't that tired and I felt motivated (still do).


Will we get to hear little samples of the new songs on here before the album comes out, to get a taste of what it will sound like? (you know we love to speculate!)

We'll see.


How's the variation of Mr. Self Destruct that you were going to do for CX's album coming along?

It's only in the discussion phase at the moment. Chris is a cool guy and has been involved with Saul's record, so I've been hanging with him a bit.


Is there any chance of a solo piano/Still-esque type tour in the next two years.

It's possible, but not real high on my priority list at the moment. My main interests revolve around the challenges of finishing and presenting the new record.


Could you provide us with a more specific time frame for the BYIT DVD other than the year 2007 - or is it too variable to forecast at this point?

The DVD is done on our end, and has been. I'll let Rob fill you in on some of the technical hurdles we've encountered (which are amazing), but the primary reason it's being delayed until the first part of the year is Interscope. Pussycat Dolls > NIN.


If you could generalize the feel/sound of the next album using one word, what word would that be?

As much as I want to discuss this, I know better now.


How close is the pending collapse of major record labels?

Not soon enough.
September 27th, 2006: Responses From Trent
more
from visage13

1. Will there be a live CD to accompany the new DVD?
No. The DVD is its own thing.

2. Will you be performing both days at the Bridge School benefit concert and will it be just you and a piano?
Ummm, good question - I just discovered it's both days. I have no idea what I will do yet.

from huffdaddy

A while back we had heard about The Fragile being mixed for surround sound. Is there any truth to that, and if so, is there a time frame for when we will be seeing it? Will it be similar to TDS deluxe set with demos and extras?

I would like to do the fragile like that. No timetable yet, but I would imagine it could happen over next summer. Between now and then I know what I'm doing pretty much.

from mikdrakon

are you considering more spiral only shows? other locations than cali? thanks

When the band gets back together, I would imagine there will be events like that, yes.

from Spiral_down

What is the status of the Closure DVD. Any news on your end?

If you hear anything, let me know. I have another equation for you to ponder. Black Eyed Peas > NIN.


Will there be any differences in content for the different With_Teeth DVD formats?

I THINK they are all the same (Rob?) - we weren't looking to reward any particular format over another.




October 22nd, 2006: 2006_10_21 - Mountain View, CA [Shoreline Amphitheatre]



Re: 2006_10_21- Mountain View, CA [Shoreline Amphitheatre]



Just checking in. About to play the 2nd show. Set list will be the same - I would have done more but I've REALLY been immersed in writing the new NIN record (which will be mixed in Jan).
Oh - the one piano I am playing is a "prepared" piano. Neil has a strict "acoustic-only" rule which threw a wrench in the plan for me - however I am pleased with the way it has turned out.
October 27th, 2006: European Tour 2007



Re: European tour 2007



A couple of things...
This is the PLAN as of this moment.
The tour we just announced will continue after the announced dates.
This wave of touring is not me solo, it's the BAND. The band personnel will remain the same - Jeordie, Josh, Aaron and Allesandro.
The new record should drop in April.



October 27th, 2006: European Tour 2007



Re: European tour 2007




Whoops! Alessandro.
Sorry, maybe I should rest....
November 4th, 2006: Responses From Trent
Re: Follow-up
Rancaguina:

I'm super excited for Beside You In Time and thanks for providing us with such a great treat while we wait for the new album. Just curious to know if the DVD will be similar in concept to that of AATCHB where there was just live concert footage and some fun easter eggs (Thank you BTW), or Closure which consisted of Tour footage, on and off stage, as well as the music video component? I really enjoyed both but seeing off stage presence is always fun. Thanks Trent!

Umm... it's primarily a live show, but there's some cool other things from the "with teeth" era that you haven't seen yet.
Hold on - are you the girl with the Jeordie shirt???


SLRobb:

Trent, have you been relaxing/unwinding at all since you wrapped up the tour? Love the DVD trailer, which indicates that you went right back to work....

Well, I was going to take a few weeks off but the goddamned schedule for the DVD moved forward, putting an end to that idea. As things happen, Interscope shit the bed on their end regarding the promotion of it so it's now coming out early '07. I KNEW I should have involved Will.I.Am in this - THAT would have made them pay attention!
NOTE: I am not serious about the WILL.I.AM comment. I consider him the definition of what SUCKS in music today.


th3wr3tch3d:

Deciding what goes on the DVD must be a tough decision considering every leg of the tour had memorably performances, especially the summer leg of the tour. So what was your favorite part of the tour?

Sadly, the last leg was my favorite but we filmed the winter portion. It's just one of those things that you have to take a chance with and I chose POORLY. There WILL be footage on BYIT from the last phase however.

Is there a chance of an official release of some sort as far the summer 2006 tour goes? Everyone seems to love the performances from the summer.

see above.

Will the content of the different formats vary? meaning, can we expect HD-DVD and Blu-Ray to have more content, hidden or otherwise than the normal DVD version? All versions will be different?

We tried to make them all the same. See Rob for specifics, though.


wargomw:

I have enjoyed "still" for a while now.... any thought of a silmilar project in the future?

Thank you. The impact of performing at the Bridge School benefit was pretty great on me, and makes me want to do something "real" in a format something like that in the future.
The new NIN record is as far away from that as you can get, so it was really a change of pace for me for a week or so.


Sonnekki:

Trent, are you planning on releasing multitrack files again for your upcoming album?

thanks so much!




If I get my way the whole record will be available. It is very suited for that purpose, much more so than WT.


kylan11:

Hey Trent: I have a friend, Scott (who is also a NIN fan), who just found out that he's a match and will most likely be donating one of his kidneys to his aunt. Well, the reality of it has caused him to totally start freaking out. Can you please tell him how cool he is for doing this? He digs you, so maybe a kind word or two will help him a little with his freaking??? Maybe???...I don't know???…Thanks.

Well, that IS a cool and very selfless thing to do. I wish them both the best!

Theo:

Is there any truth to the rumour that you and Charlie Clouser are forming the side project N*U*C*C*A (No-one Understands Charlie Clouser's Apricot), and if so, will the vinyl edition of the album come with a free taco stand?

Fucking FUNNY! Good one!

Shero228:

Hey Trent,

What are your favorite plug-ins?

Thanks,
Over and Out,
A Curious Gear Slut

SOME of my faves are:
Izotope Trash
SoundToys EchoBoy
NI Kontakt

rickenbacker:

Trent, will the band lineup for touring under the new album be the same as the With_Teeth tour lineup?

yep.

void_nz:

Oh no, its a touring question.

You mentioned in an interview of wanting to come back to New Zealand and Australia. You didn't get round to it this time but next time please try to come see us down here again.



coming.

Did you enjoy yourself in Australia last time. Get up to anything interesting?

Tried to snorkel at the Great Barrier Reef, went to an AMAZING ghetto-style crocodile farm that I'm STILL talking about.